Marsha Countryman, Underwriter

Marsha came to Central Illinois Mutual on June 6, 2004.  She had worked in the insurance industry in California for 14 years at several agencies and as a personal lines underwriter on the company side.  Marsha returned to Illinois in late 1998.  She has a son here in Illinois and a daughter and granddaughter in Rhode Island.

 

Jeff Jump, Claims Adjuster

Jeff joined CIMICO in July 2007 when Prairieland Mutual merged with Central Illinois Mutual.  He began working in the insurance industry in 1998 as a part time life & health producer. Jeff changed careers in 2005 when he was hired to do home inspections for policyholders with Prairieland Mutual. He was later hired as a full time claims adjuster. Jeff is a former football coach for local JFL and high school teams in the Niantic-Harristown, Illiopolis and Tri-City areas. He ended his coaching career as a varsity defensive coordinator after coaching two of his sons and nephews during a 10 year stint. Jeff likes to lift weights, walk his dog, boat on the lake and vacation in tropic locations when he can. Jeff is a lifelong Green Bay Packers fan and supports Illinois football and basketball. Jeff and his wife, Linda, live in Decatur with their two dogs. They have four children and ten grandchildren to date, who all live nearby on the west end of Decatur.

 

 Doug Maxwell, Claims Adjuster

Doug started with Central Illinois Mutual in 1992.  After college, Doug worked for 2½ years as a watchmaker in Colorado before returning to IL and working 12½ years at Southland Distribution, a 7-11 company.  He also refereed high school basketball for 17 years while umpiring college and high school baseball, which he currently still does.  Doug enjoys traveling and motorcycling in his free hours.  Doug lives with his wife, Wendy, in Allerton, IL.  They have four children, the youngest is currently a junior at Heritage High School. Doug is a big Cardinal fan and of baseball in general.  As a side note, he believes he is not perfect, but can see it from where he is standing.

 

 Rod Peavler, PFMM, Marketing Manager

Rod joined the Central Illinois Mutual staff in June 2015, after serving on the Board of Directors for 19 years.  Prior to joining CIMICO, Rod was an independent agent in Rantoul, IL for 29 years.  He attained his CIC designation in 2004 and the Professional Farm Mutual Manager designation in 2017.  Rod has been a lifelong fan of the Los Angeles Dodgers and the Minnesota Vikings.  He enjoys playing golf and do-it-yourself home projects in his spare time.  Rod has been an IHSA certified basketball official since 2005.  Rod grew up on a farm in Thomasboro, IL and currently resides in Rantoul.  He has 2 adult children, Mallory (St. Pete, FL) and Brock (Rantoul, IL).

 

 Steve Prosser, Claims Adjuster

Steve was born, raised, and still lives in Hugo, IL, just east of Tuscola.  He has farmed his entire life.  Steve became a claims adjuster for Central Illinois Mutual in March 1992.  He previously served on the NAMIC Loss Control Committee and has spoken on various topics.  Steve also served on the IAMIC Board of Directors, 2003-2006.  In his spare time, Steve enjoys hunting, and watching St. Louis Cardinals baseball.

Belinda White, Billing/Accounts Receivable

Belinda joined Central Illinois Mutual in June 2010.  Prior to joining Central Illinois Mutual she spent 9 years handling Accounts Receivable for Safety-Kleen Corporation.  She and her family enjoy camping, spending time with their two dogs, Chloe & Marley, & watching the St. Louis Cardinals.  Belinda and her husband, Josh, reside in Villa Grove.  They have two grown children and one grandson.

Photo Pending

Barb Young, Receptionist/CSR

Barb joined Central Illinois Mutual in May 2017.  Prior to coming to CIM, Barb was an interior decorator for a furniture store and has previous experience as a legal secretary.  Barb grew up on a family farm south of Decatur, near Pana, IL.  Barb lives in Mt. Zion with her husband, Dan.  Between them they have a daughter and two sons, plus four grandchildren.

 

 Dan Young, CPCU, PFMM, Mutual Manager

Dan joined Central Illinois Mutual in June 2010 as the Marketing Rep. He was named mutual manager in January 2012. Dan began his insurance career in June 1978 as claims adjuster for Federal Kemper Insurance in Decatur, IL. Dan's past experience also includes technical and management positions in education, marketing, and underwriting, both personal and commercial lines, with companies such as Unitrin P & C, General Casualty, and Indiana Insurance. He earned the CPCU designation in 1989 and the Professional Farm Mutual Manager designation in 2013.  A long-time Cubs fan, Dan also enjoys college sports. He is also an avid do-it-yourselfer. Dan lives in Mt. Zion, IL with his wife, Barbara. Between them they have a daughter and two sons, plus four grandchildren.
Staff and directors of Central Illinois Mutual at our 125th Anniversary Celebration (1892-2017).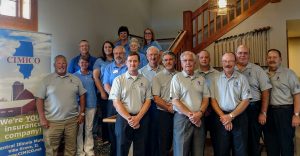 President Mike Beaird accepts a plaque from Jackie Rakers, Executive Director of IAMIC, in recognition of 125 years in business.